Hongxing Crusher with Domestic and Foreign Technologies
In recent years, with the development of the mining industry, development of crusher is also changing, and the crusher type is also increasing, with increasingly broad scope of application. After years of development, now China has become a crusher producing country, formerly import situation of breakers has now ceased to exist. On the contrary, export industry of crushers in China is developing very rapidly.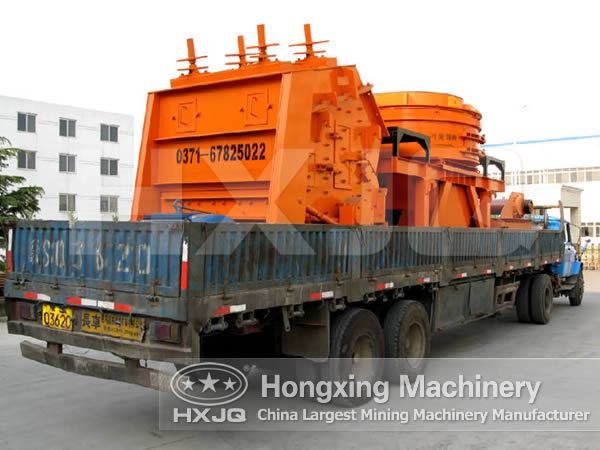 Hammer, core parts of Homemade Hongxing inversed impact crusher, is relying on import at the beginning. Today, domestic hammer of impact crusher has replaced imports of flat hammer, and has been exported to Europe, Japan and other countries. Study on wear-resistant materials in China has made new breakthroughs, which drove the shape development of hard rock inversed impact crusher in China.
As stone production line mainly consists of vibrating feeder, jaw crusher, cone crusher, impact crusher, vibrating screen, belt conveyor, electronic control systems and other components, vertical shaft impact crusher is one of the essential equipment of stone production line. Inversed impact crusher is mainly suitable for crushing various materials such as basalt and marble, and it is widely used for limestone crushing in cement plant, urban infrastructure, hard rock ore crushing, and gravel preparation in aggregate engineering of reconstruction and other projects.
After years of development, technical level of inversed impact crusher has also been significantly improved, but its essence remains unchanged. Now, breaker machine manufacturers use new efficient, energy-saving, wear-resistant breaker equipment. Hongxing impact crusher machine makes full use of technology both at home and abroad, which thoroughly changed the insufficient wear resistance of impact crusher machine, thereby increasing its using performance. Hongxing impact crusher machine has good application prospects in mechanical field.
Hot Product
Jaw Crusher


Jaw crusher has become the first choice to a lot of mining and construction industries due to its large crushing.

Cone Crusher


Cone crusher mainly breaks the middle hard ores and rocks.

Impact Crusher


Impact crushers have the following advantages: large crushing ratio, high compressive strength, strong processing capability, etc.